High productivity and ease of use even in heavy-duty conditions thanks to the hydraulic 360° rotation, a standard feature on all models, and clamps and blades in hardwearing HB400 steel.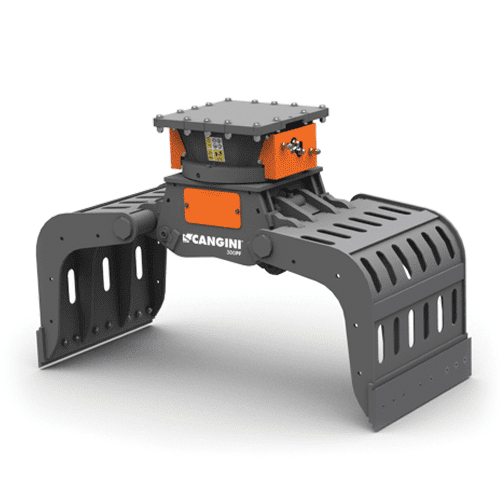 Designed to handle a variety of materials, exceptionally wear-resistant and long-lasting, the Cangini sorting grapple is constructed in hardwearing steel.
Thanks to its great clamping force and high operational agility, the sorting grapple is especially designed for recycling centres, to sort and handle aggregates, iron or waste materials.

Versatile, it is particularly useful on those sites that need to handle a variety of materials in short times. The Cangini sorting grapple can be fitted with a large assortment of accessories: side closing, with or without teeth, which increases its load capacity for a more effective grip on stones and timber, teeth for a precise gripping of bulk material, rubber bumpers for safe handling of concrete curbs.
Thanks to its particularly rugged structure, it can also safely and reliably tackle light-duty demolition jobs.
Bidirectional hydraulic rotation featured on all models: with hydraulic rotor on 100PF and 150PF models; with slewring on 200PF, 250PF, 300PF, 300PG, 450PF, 450PG, 550PF and 550PG models.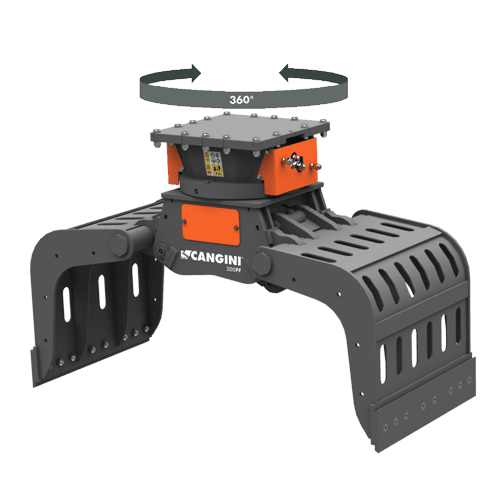 High resistance guaranteed thanks to the use of high-strength steels for the construction of parts most exposed to wear. Pins, in 39NiCrMo3 streel, undergo thermal hardening (60 HRC), while bushings are cemented.
The flanged relief valve protects the engine against the pressure peaks and it is a standard feature on all models.