The elongated shape of the general duty skeleton bucket, particularly popular in Scandinavian countries, prevents earth from sticking to the sides and facilitates the discharge of material. The high strength steel and the reinforced structure make it rugged and durable, the ideal choice for separating stones and aggregates, even in water, and for land reclamation.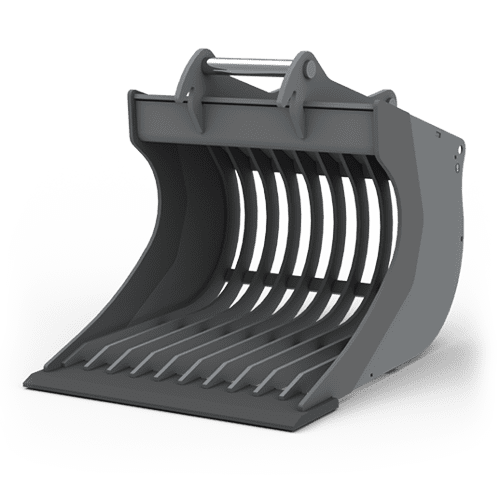 Thanks to its robust structure and reinforced blade, entirely in HB400, this bucket delivers a long working life and high performance in the screening and recovery of aggregates, including demolition rubble.
The size of the separated material depends on the distance between the tines.
The wide range of models (12) allows the perfect match for every excavator, providing the best performance for each specific class and application from 0.8 to 22 ton.
The advantages increase even more in combination with the Twist system, enabling the bucket to tilt up to 90° on either side, or Rototwist, allowing 55° tilt and 360° rotation.
The elongated profile facilitates the discharge of material.
The reinforced blade in HB400 high-strength steel protects the bucket from wear and enables it to withstand even the toughest operating conditions.