FORCE ONE FORESTRY MULCHER TX-F
Great power and maximum resistance for equipment that has to withstand heavy work.
The forestry mulcher has been designed to manage the heaviest workloads: the deep clearing of woods and forests. It is the ideal tool to clear fire roads, open tracks and trails and cut trees down.
The forestry mulcher is equipped with a piston engine to run at the most intense work pace.
A feature that makes this equipment extraordinary is the forced ventilation operated directly from the rotor, this allows the cooling of the circuits and of the hydraulic motor to keep the oil temperature constant.
It can be equipped with different rotors for every need.
The forestry rotor R2 with foldaway hammers is suited to the cutting of shrubs, bushes and briers. The rotor R3 is highly versatile and available for multiple uses from brushwood cutting to tree crushing.
The Forestry fixed-tooth rotor is designed for heavy-duty works, it is especially suitable for plant mulching.
The great resistance of the forestry mulcher is guaranteed by the reinforced frame.
The adjustable protection frame ensures that the plant falls away from the operator.
Both the circuits and the hydraulic motor are cooled by a forced ventilation cooling system driven by the rotor. The forced airflow helps to keep the oil temperature constant.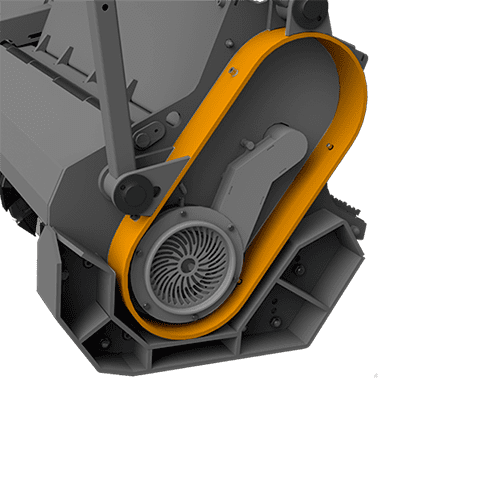 The reinforced body with double bottom guarantees high resistance against accidental shocks and twisting movements.
Hydraulically opened, the front hoods allow to make the most of the rotor's power because it makes the rotor penetrate the vegetation.