It is the perfect tool for maintenance and cleaning of wide areas, industrial floors and roads requiring top-notch cleaning Designed to be even lighter and more compact in size, less long and less high, which makes this equipment even more stable and easier to handle. In addition, its low front design ensures a better view from the cab.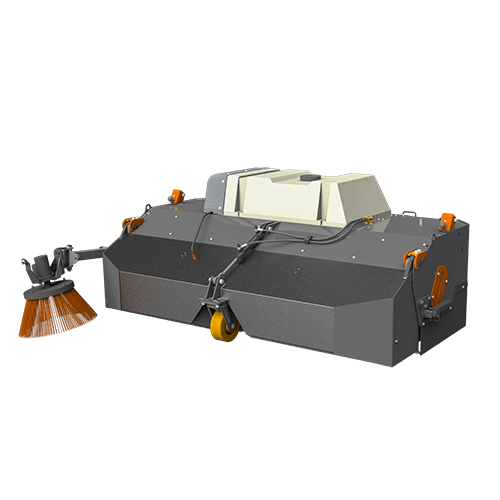 The winning ally for maintenance and cleaning of wide areas, industrial floors and roads requiring top-notch cleaning. High-performance even on difficult slopes thanks to the angling, tilting and floating systems for a complete adaptability to the terrain, allowing the equipment to follow its course in an optimal way. The pivoting wheels allow the sweeper to follow all movements of the operating machine. The angle side hydraulic tilting adjustment of +-20° allows the tilt angle to be varied by up to 20° per side. While the integrated motor in the roller means that there are no side protrusions that could impede the free movement of the equipment or bump into the side or break the hydraulic hoses with consequent leakage of fluid, which can pollute the environment. Even more versatile thanks to its wide range of brushes for all requirements, depending on the surface to be worked on. The adjustment system of the central brush allows it to be used at maximum efficiency throughout the all life of the brushes. For a complete and optimal performance, a dust-control system is available with a tank and pump that nebulize pressurised water directly on the source of dust, suppressing it during the work thanks to the sprinklers installed inside the bucket and optionally on the side brushes. For the cleaning of kerbs, walls and pavements, the Easy Sweepy can be equipped with side brushes for a precise result.
Additional comfort is provided by the electronic console, which allows all implement functions to be easily controlled directly from the cab.
It can be equipped with a dust control system to suppress the dust generated during work and ensure an optimal cleaning result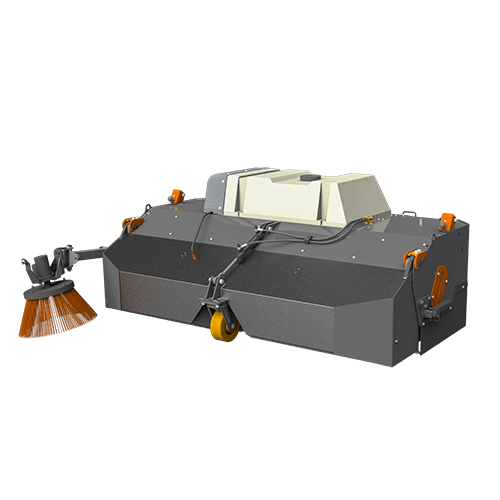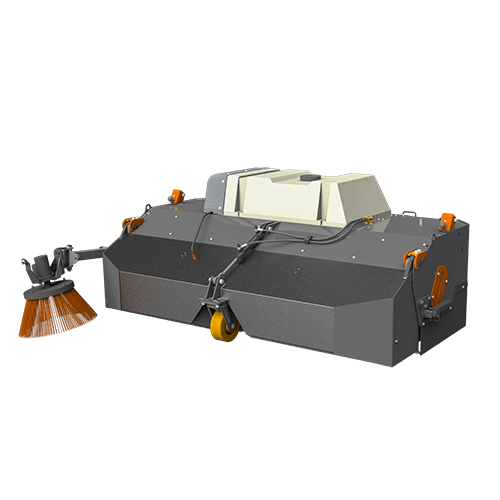 The easy sweepy is even easier to handle thanks to its compact, low-profile design. The electronic console in the cab allows all attachment functions to be easily controlled.