The high strength steel and the reinforced structure make the Cangini digging bucket rugged and durable. Its optimized design ensures effective penetration into the ground and increased load capacity.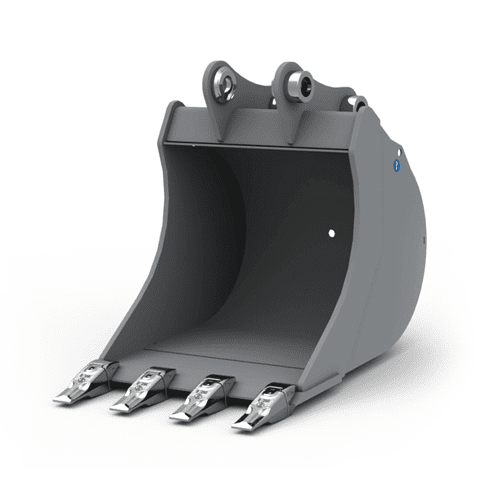 Cangini buckets are the most effective choice for ditch digging and clearance, loading and finishing operations.
Thanks to the reinforcing bands welded to the bottom
an area subject to heavy stresses,

and the extra-hard cast steel teeth,
heavy duty buckets are especially high-performing and deliver a long working life.
Their distinctive design ensures higher load capacity, while the angled shape reduces resistance to the terrain, for quicker, easier penetration.
The result is more filling and better digging.
The result is more filling and better digging. The wide range of models (13), allows the perfect match for every excavator, providing the best performance for each specific class and application from 0.6 to 22 ton.
Ideal for medium consistency soils, they can be equipped with
supplementary blade

with HB500 cast steel blade guard for working on particularly compact and abrasive soils.
The advantages increase even more in combination with the Twist system, enabling the bucket to tilt up to 90° on either side, or Rototwist, allowing 55° tilt and 360° rotation.
The horizontal reinforcement bands and the extra-hard cast steel teeth protect the bucket from wear and allow it to withstand the most demanding stresses.
The angled shape allows optimal penetration into the ground.
The optimized design facilitates movements and the unloading of material.